Culpeper County Public Schools Bus Safety Program
CCPS has partnered with the Culpeper County Sheriff's Office and BusPatrol to launch a new school bus safety program to safeguard students on the journey to and from school.
All school buses in the CCPS fleet have now been outfitted with advanced safety technology, including stop-arm cameras to deter motorists from illegally passing stopped school buses.
To speak to a representative about a stop-arm violation, contact the AlertBus Customer Contact Center at 1-877-504-7080.
Read on to learn more about the program.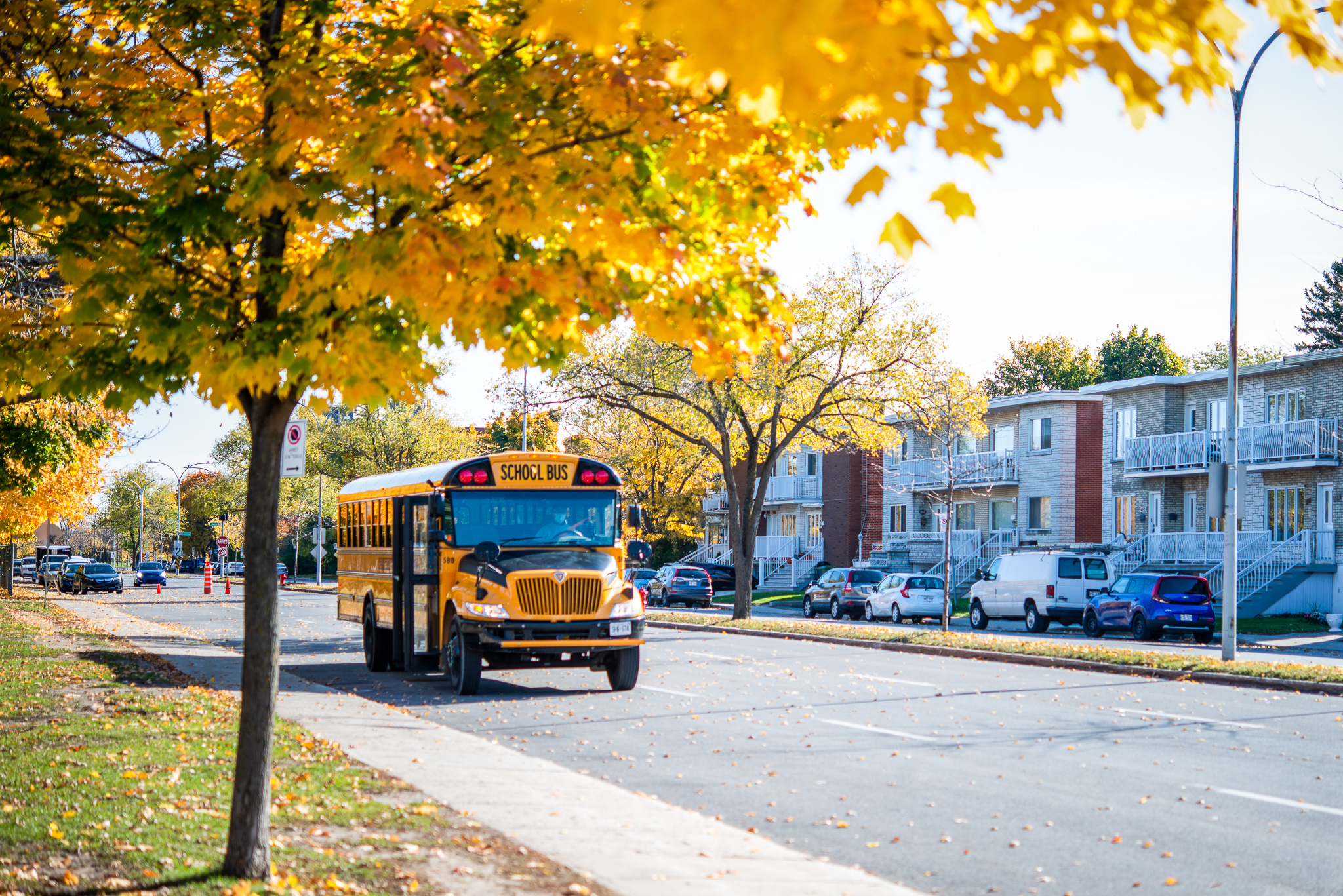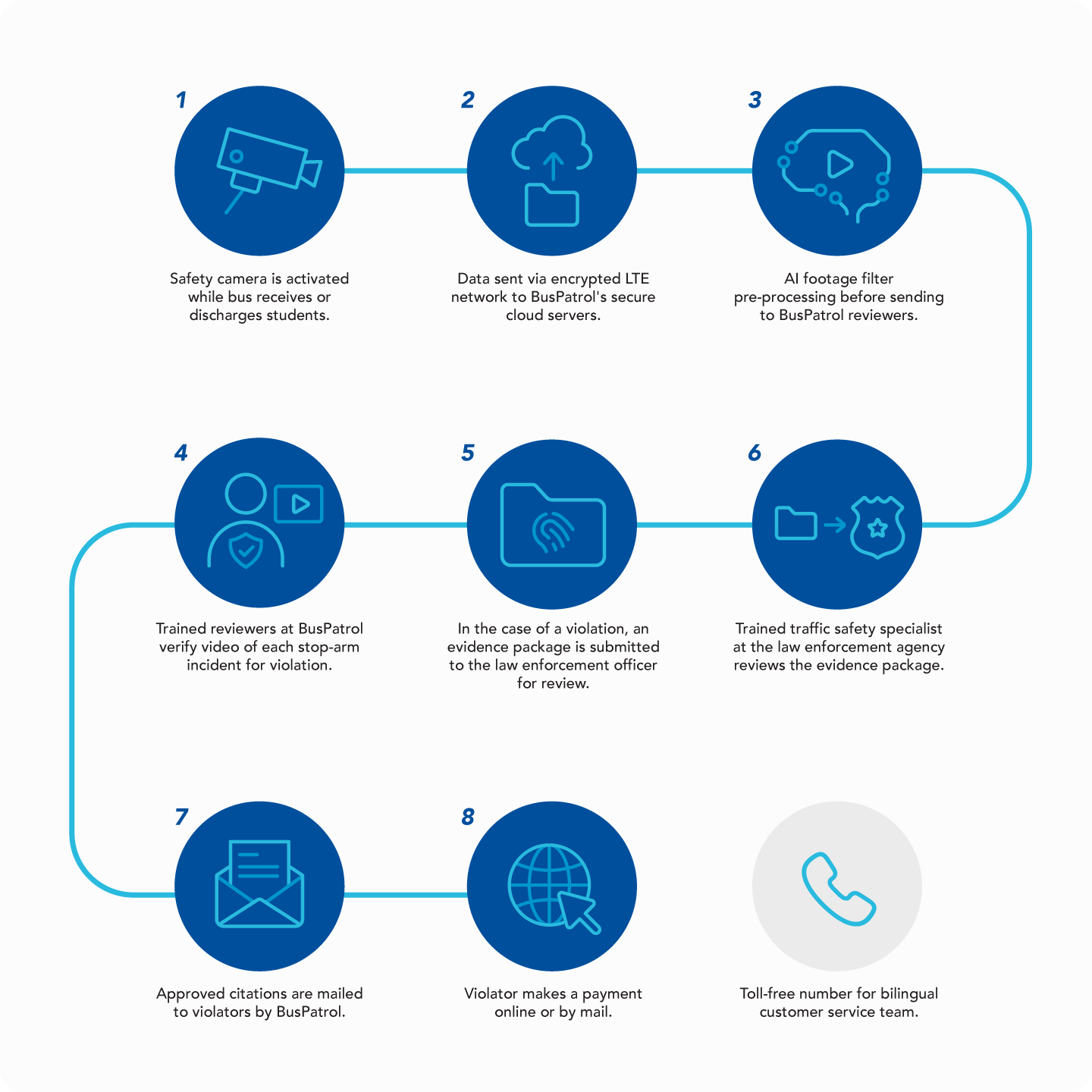 How Does the School Bus Safety Program Work?
School districts choose to opt into the School Bus Safety Program. Through the program, every bus in the participating school district's fleet will be outfitted with the 360° Student Safety Platform. This includes stop-arm cameras, DVR and storage devices, GPS, telemetry, and LTE connectivity.
Who Are Stop-Arm Violation Tickets Issued to, and How Much Will They Cost Violators?
Stop-arm cameras identify illegal passers by license plate number. Tickets are issued to a vehicle's registered owner unless the automobile is proven stolen during the offense. If someone other than the vehicle's owner was driving at the time, the owner can request a transfer of liability.
In Virginia, a first-time stop-arm violation carries a fine of $250. In addition to the financial deterrent, violators learn about the potential dangers of their actions. Offenders can call the program's toll-free number and speak with a representative, who can review the video evidence and help them understand the dangers of illegal passing. Services are offered in both English and Spanish.
Data from other safety programs demonstrate that 98% of first-time offenders do not receive a second ticket, and 95% of drivers do not contest their ticket after seeing video evidence of their violation.
When Should I Stop for a School Bus in Virginia?
Drivers are required to follow certain laws when encountering a school bus. Virginia motorists must:
Stop for stopped school buses with flashing red lights and an extended stop sign when approaching from any direction

Remain stopped until everyone is clear and the bus moves again

Stop whenever the bus is loading or unloading passengers, even if the lights and stop sign are not activated
If a school bus is on the opposite side of a raised median or barrier, motorists aren't required to stop; however, drivers should be prepared for students exiting the school bus and crossing into their lanes.
Learn more at Virginia DMV.
Safety Tips for Children, Student Riders, and Parents
Walk with your young kids to the bus stop and wait with them until it arrives. Make sure drivers can see the kids at your bus stop.

Teach kids to stand at least three giant steps back from the curb as the bus approaches and board the bus one at a time.

Teach kids to wait for the school bus to come to a complete stop before getting off and not to walk behind the bus.

If your child needs to cross the street after exiting the bus, they should take five giant steps in front of the bus, make eye contact with the bus driver and cross when the driver indicates it's safe. Teach kids to look left, right, and left again before crossing the street.

Instruct younger kids to use handrails when boarding or exiting the bus. Be careful of straps or drawstrings that could get caught in the door. If your child drops something, they should tell the bus driver and make sure the bus driver can see them before they pick it up.

Drivers should follow the speed limit and slow down in school zones and near bus stops. Stay alert and look for kids trying to get to or from the school bus.

Slow down and stop if you're driving near a school bus that is flashing yellow or red lights. This means the bus is either preparing to stop (yellow) or already stopped (red), and children are getting on or off.
Links to Learn More About School Bus Safety
To pay your citation by credit card, go to www.alertbus.com and enter your citation and license plate numbers.
To pay by phone, call 1-877-504-7080 and follow the automated prompts. Please have your citation number and credit/debit card ready. This option is for total payments only.