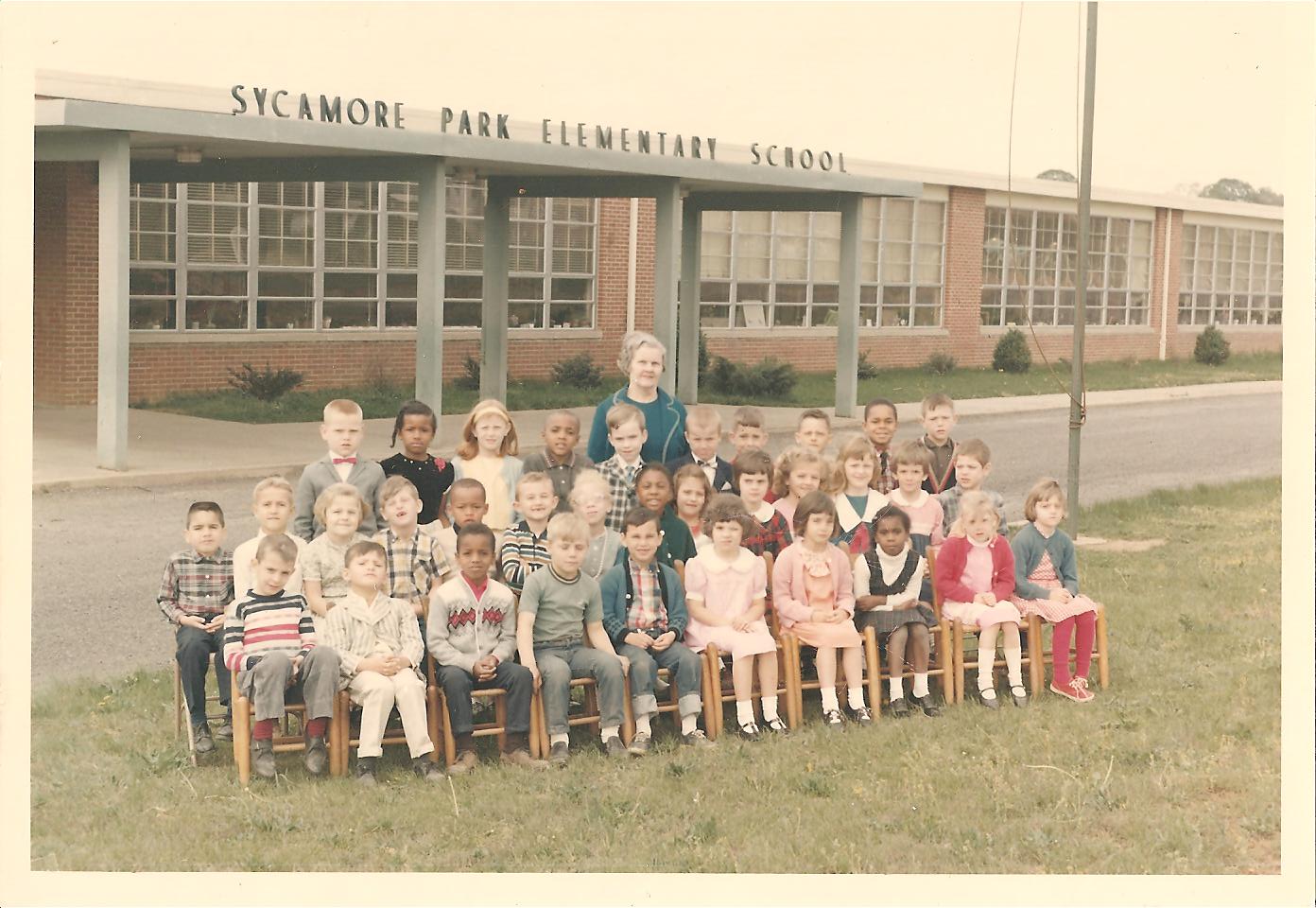 Sycamore Park Elementary School 1966 (photo courtesty of Kathy Dwyer)
History of Sycamore Park Elementary School
Sycamore Park Elementary School is a pre-kindergarten through fifth grade school serving approximately 700 economically, racially and ethnically diverse students. In addition to long time Culpeper residents, we have many new students from around the country and from around the world with our immigrant families representing over 15 different nations.
Sycamore Park was first opened in 1959 and originally known as Culpeper Elementary and served Kindergarten through third grade. In 1990, an addition was built on to the school and included several new things, such as a clinic, separate offices for the principal, assistant principal, secretary, bookkeeper, and attendance clerk. This addition also included the gym, library and computer lab, and classrooms which currently house kindergarten and first grade.
Sycamore Park's first mascot was the Blue Devilette. In 1987, Chipper the Squirrel was elected school mascot by the student body. In 1997, when the upper grades were added, the mascot was changed to the current mascot, which is the Panther.
Sycamore Park currently has 2 administrators, 48 teaching staff, 17 para educators, 3 office personnel, 1 nurse, 1 Technology Integration Specialist, 2 school counselors, 1 psychologist, 1 volunteer coordinator, 1 Behavioral Specialist, 5 custodial staff, 2 cafeteria monitors and 6 cafeteria personnel. There are 5 resource classes that students attend: art, computer, library, music, and physical education. Before and after daycare is also available through Culpeper County Day Care.
All Culpeper County Public School students (including Sycamore Park) are given a Chromebook to use at home and at school. Each classroom is also equipped with a document cameras and either a projector/TV. Telephones are also in each classroom and many other technological devices are available for instructional purposes.
Sycamore Park Elementary School is committed to preparing children to be responsible individuals, community partners, and world citizens. Our mission is: "to challenge all students to fulfill their potential by developing the knowledge, skills, and temperament to successfully cope with the political, cultural, and economic conditions of today and tomorrow."
Principals of Sycamore Park
1960 - 1965 Mary Ross
1965 - 1966 Gary Helbert
1966 - 1980 John Galbreath
1980 - 1986 Robert Knighton
1986 - 1992 Robert Borges
1992 - 2001 Barbara White
2001 - 2009 Russell Houck
2009 - 2016 Valeri Meza
2016 - Present Derek McWilliams